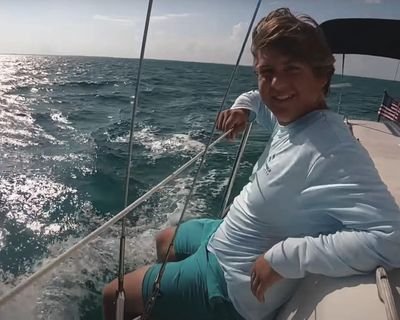 Gabe – Head Instructor
I was born in Miami FL, raised in Greenwich, CT but my heart has always belonged to New York City. My love and passion for the ocean has brought me down to the Florida Keys where I fill my days instructing, diving, and sailing. I've been diving since I was 15 years old and have been a Master Scuba Diver Instructor since 2019, in that time I have accumulated over 5,000 dives. There's nothing more rewarding in what I do than experiencing firsthand the joy and enthusiasm my students have as they complete their first dive.
Favorite Dive Site
With Key Largo having so many dive sites to choose from picking one would feel unfair to the others…but if I must, I would have to say it is 'Horseshoe Reef'. This because it's one of the few spots remaining with the most healthy living coral. I've encountered hammerhead sharks, eels and octopus among many other marine life, Horseshoe reef's structure is unique in that it offers naturally occurring swim through that make for amazing photo shots to share with your friends and family. Just remember "Take only pictures, leave only bubbles"!
My dive gear
As a professional instructor I have tried and tested just about all the dive gear out on the market. I have finally coordinated a setup that fits my needs and have never faltered: Apeks WTX harness with 30lb wing bladder as my BCD, Atomic T3 as my regulator, Sheerwater Teric as my dive computer, and lastly my most treasured piece of equipment, the Ultra Clear Atomic mask that has been by my side since my very first dive, 11 years and still going strong. 10 out of 10 recommend.
How & why did you start diving?
I suppose I should thank my pain in the butt sister for inadvertently being the reason that I am diving today. Bored from waiting for her dance lessons at the YWCA to be over I saw that they were having free introductory scuba lessons which I took full advantage of. I had never felt like I belonged anywhere as much as I do in the water. The underwater sensation of weightlessly gliding without needing to take a breath made me feel as if I was an astronaut, better yet, an aquanaut. No matter how many times I dive, even if it's the same dive site, it's always a completely new experience which I'll never tire of.
What is your dream dive vacation?
Favorite place to visit in the Florida Keys?
Hands down most favorite local spot has got to be Keys Meads! But I always grab food at my favorite restaurant Mrs. Macs Kitchen before going to the Meadery.
If you aren't scuba diving where can we usually find you!
Out on my home away from home, my sailboat Little Chicken exploring the Keys! She lives at Silent World Dive Center – feel free to ask me for a a sailing story I have many a few!