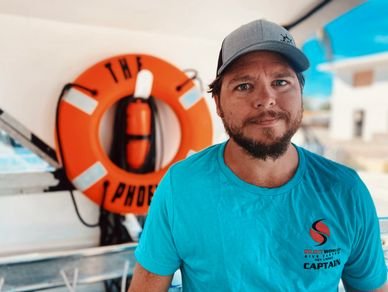 Brad – Captain & Instructor
Hello future Silent World Dive Center visitors! My name is Brad and I am your friendly Captain or Scuba Instructor. I am originally from Detroit and spent the majority of my years as a Porsche Mechanic from Detroit. However Detroit had one big problem – no sailing, and it was cold…basically always. So I headed south to Sunny South Florida! And while working on Porsche's in Florida weather was an improvement – I still was not outside in the sun having fun. So a few years and many events later here I am, Captaining, teaching and living the scuba life. I look forward to seeing you all out on the boat sometime.
Favorite Dive Site
I love scuba diving key largo! My favorite site has to be Christ of the Abyss, with the gorgeous reef that lies all around it when you discover Christ of the Abyss hidden within the heart of the reef if feels like an underwater treasure hunt! The life on this reef definitely makes it a must see.
My dive gear
I love my Aqua Lung BCD! Having the integrated weight pockets, standard pockets, and built in keepers for my SPG and Alternate makes my unit so streamlined, I never worry about a piece of equipment coming undone and damaging the reef. It is the same BCD we have for all our rental equipment and I cannot speak highly enough about it.
How & why did you start diving?
They told me knowing how to dive wasn't apart of this job requirment. Ha I kid! Ask me about my diving adventure when you meet me. I prefer giving stories in person and with more charisma than online introductions offer.
What is your dream dive vacation?
Key Largo diving is amazing – thats why I do it almost 365 days a year. But if I was headed to vacation, most definitely some of the old wrecks in the Great Lakes!
Favorite place to visit in the Florida Keys?
I love taking my boat out to some of the local islands and exploring with my dogs. Or heading over to Key Lime Sailing Club for some sunset bay races!
If you aren't scuba diving where can we usually find you!
Sitting on my sailboat. Thats the first step to sailing away right?