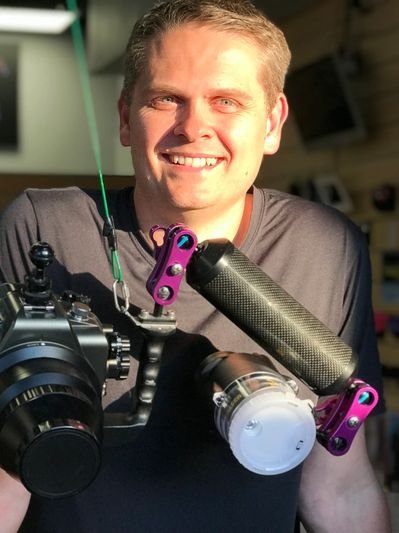 Bill – Platinum Course Director
I am originally from Atlanta, Georgia and have lived in Miami for the past 20 years. I founded Grove Scuba in 2006 and I am a PADI Platinum Course Director. I am also a CPR and First Aid Instructor Trainer, as well as a DAN Instructor Trainer who is actively involved in diver safety training.
In addition to teaching new divers and instructors, my passion is underwater photography. I love to travel to exotic destinations around the globe in search of the perfect photo. I regularly write articles for underwater photography publications and you can see my work in magazines around the world including: National Geographic, Scuba Diving Magazine, Sport Diver, and many others.
Favorite Dive Site
Carysfort Reef
My dive gear
Atomic T3, Atomic SS1, Garmin Descent Mk2i computer, Apeks WTX BCD, Atomic Frameless 2 Mask, split-fins, aqualung foldable snorkel, bare reactive 3mm wetsuit.
How & why did you start diving?
I started diving in high school. I was actually a tennis instructor at the time and traded scuba lessons for tennis lessons. Didn't know anything about diving at the time, but after the class I loved being underwater and never looked back. I became a dive instructor in college and spent my off time and summers certifying students.
What is your dream dive vacation?
My dream dive destination would probably be some of the remote sites off Papua New Guinea that are still being discovered.
Favorite place to visit in the Florida Keys?
Favorite place to visit in the keys would be Robbie's marina to kayak and feed the tarpon.
If you aren't scuba diving where can we usually find you!
If not diving you can find me playing with my two children and trying to keep up with their nonstop energy.